Follow the steps below to accept financial aid awards in Cardinal Station. Awards must be accepted before each academic year.
Keep in mind that The Office of Enrollment Services issues accounts statements monthly. Once you have accepted your financial aid awards, they will appear on your subsequent monthly statement; acceptance of awards will not retroactively change a statement that has already been issued. If you need to remit payment before the next statement has been issued, you may deduct the amount of the accepted awards from the statement balance.
For each award you fail to Accept or Decline, we may automatically decline the award to adhere to federal regulations. Aid not accepted or applied for before the semester starts may not be able to be reinstated. Late acceptance must be submitted at least 3 weeks prior to the end of the semester.
Be sure to click "Change" and select the latest aid year of 2022-2023.
Login to Cardinal Station and Navigate to the Financial Aid tile. The Financial Aid tile is on the top right corner of your Student Homepage.

Select the Accept/Decline in the Awards Section. Click Change and select aid year

2022-2023.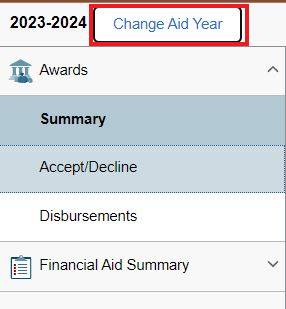 Review the financial aid information listed. Then select the pencil icon next to the submit button highlighted in yellow in the image below. (If you believe awards are missing or incorrect, contact our office.)

The Select icon under Award Decision column will change to a drop-down menu. Select Accept for the awards you wish to accept and select Decline for the awards you wish to decline. (You can also click on Actions to accept all or decline all buttons if you wish to accept or decline all awards.)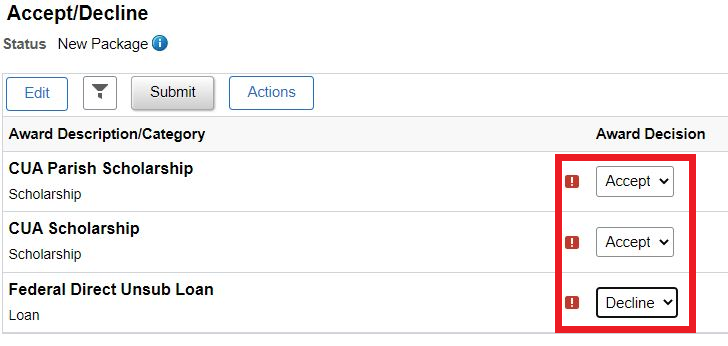 Select the Submit button.

Select the Yes button to complete acceptance of your financial aid awards.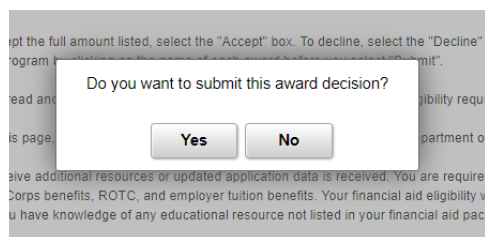 The system will display the below confirmation once your actions have been successfully submitted.