Follow the steps below to accept financial aid awards in Cardinal Station. Awards must be accepted before each academic year. 
For each award you fail to Accept or Decline, we may automatically decline the award to adhere to federal regulations. Aid not accepted or applied for before the semester starts may not be able to be reinstated. Late acceptance must be submitted at least 3 weeks prior to the end of the semester.
Be sure to click "Change" and select the latest aid year of 2023-2024.
Fall 2024-Summer 2025: Aid year - 2024-2025
Login to Cardinal Station and Navigate to the Financial Aid tile. 

Be sure to select the latest award year: Click Change and select aid year

2023-2024.

 Select the Accept/Decline in the Awards Section.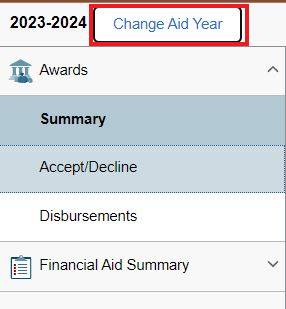 Prior to accepting financial aid, you will need to review the Financial Aid Acknowledgement. Be sure to review all of this information prior to acceptance. After reviewing, click Accept at the bottom of the page to move forward.

Review the financial aid information listed. Then select the EDIT icon next to the submit button highlighted in yellow in the image below. (If you believe awards are missing or incorrect, contact our office.)

The Select icon under the Award Decision column will change to a drop-down menu. Select Accept for the awards you wish to accept and select Decline for the awards you wish to decline.  (You can also click on Actions to accept all or decline all buttons if you wish to accept or decline all awards.)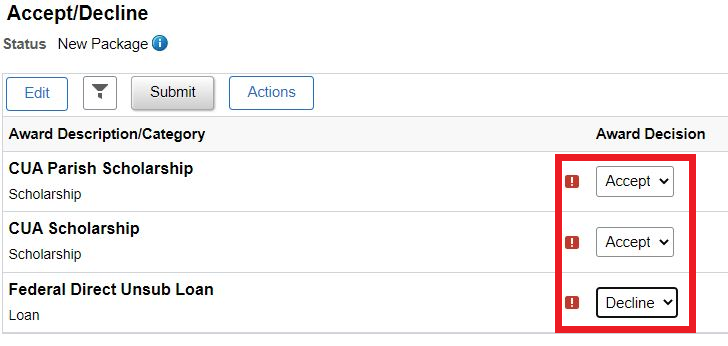 *If you wish to accept a portion of a loan and not all of it, click the checkmark box under reduce then type in the amount you desire to the right. If you previously accepted a loan and wish to decline it prior to disbursement, you may update your decision following these same instructions. If you declined a loan already, you must use the Loan Adjustment Form on our
Forms
page to make an update.
Select the Submit button.

Select the Yes button to complete the acceptance of your financial aid awards.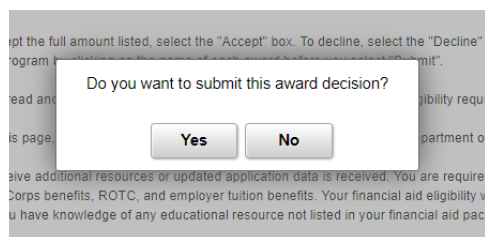 The system will display the below confirmation once your actions have been successfully submitted.