Greetings from the Office of Student Financial Assistance!  Our team's goal is to make the process of applying for and utilizing financial aid as easy as possible. We hope to help you and your family make a Catholic University education possible and affordable. 
By now, you should have already received your Financial Aid Offer Letter. After carefully reviewing your awards, now is an important time to understand the requirements and conditions for your financial aid options. 
The information below is not extensive and serves to provide a brief understanding to get you started. For more in-depth information, please review the appropriate sections of our website.
After carefully reviewing this information, please log in to Cardinal Station at https://cardinalstudents.cua.edu/ to review and accept or decline your awards.
Catholic University Financial Aid 101

Your Financial Aid Offer Letter may contain two types of aid:
Financial aid awarded based on demonstrated need as determined by the Free Application for Federal Student Aid (FAFSA). Some of the awards may be funded by the University and others may be funded through federal aid programs. These awards are subject to re-evaluation each year.

If you have not completed a FAFSA, you can do so at FAFSA.gov. Use the school code 001437 to add Catholic University.



Academic-based (merit) scholarships awarded by the Office of Admission and scholarships funded by the University. These awards are based on prior academic performance and are not tied to your demonstrated need or the FAFSA. These awards are not subject to future increases or re-evaluation. For information on how these awards are determined, please reach out to the Office of Admissions at 202-319-5305 or cua-admissions@cua.edu
 When determining your eligibility for need-based aid, we consider several factors: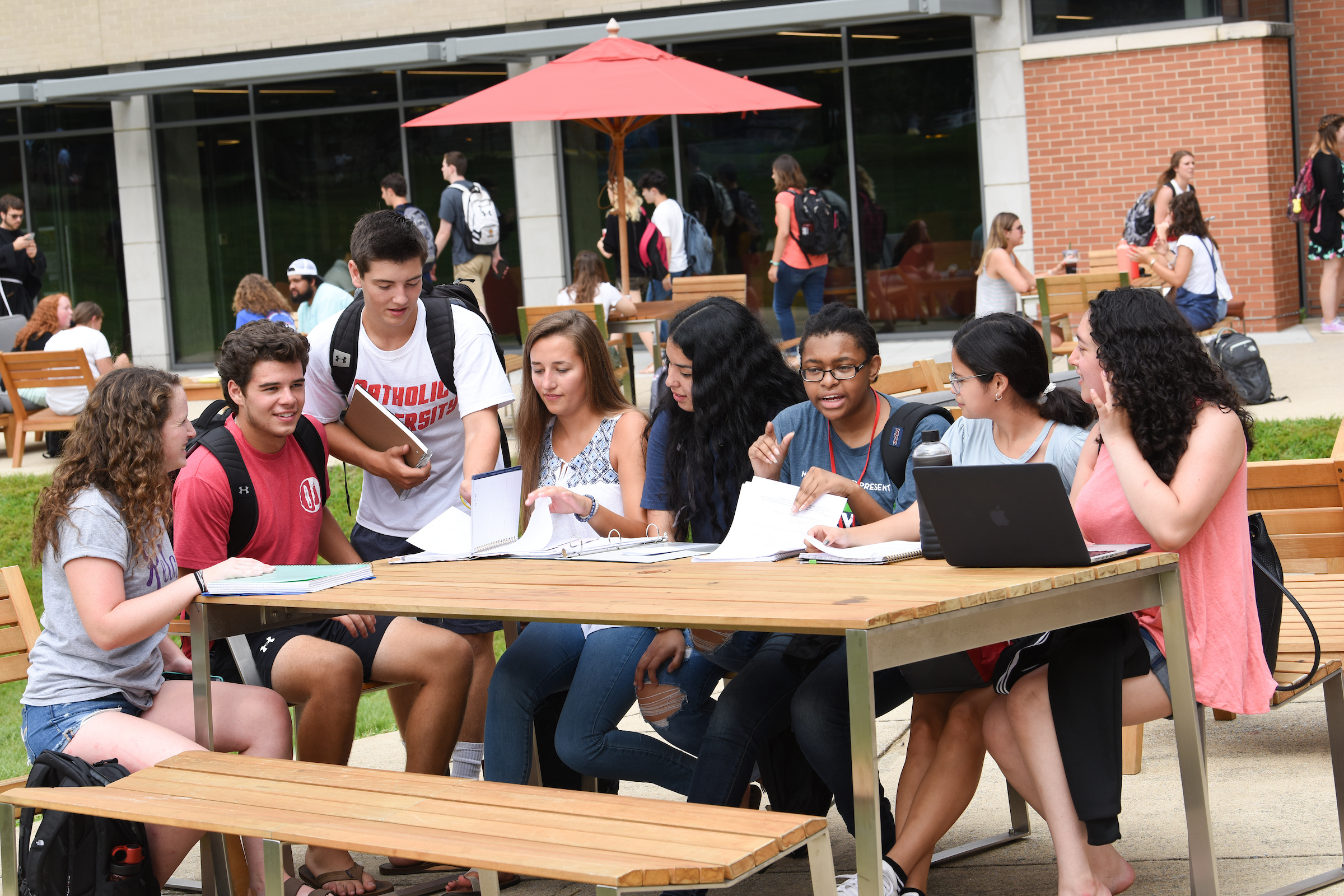 Your Projected Expenses at the University. The projected expenses amount you see on your financial aid offer letter includes billable charges that will eventually be on your University bill (tuition, fees, housing & food if living on campus).  Your actual tuition/fees are determined once your enrollment is finalized. In addition, the financial aid offer letter includes non-billable expenses that you may encounter while enrolled (books, transportation, personal items, and loan fees). These non-billable expenses are not included on your bill with the university.



Your FAFSA information.

The FAFSA helps us determine how much your family might be able to contribute to your education each academic year, a number known as the Expected Family Contribution (EFC). When calculating the EFC, the FAFSA reviews things such as your family's income, assets, and the total number of people in your household.

If your FAFSA does not accurately represent your financial situation, please review the appeal details in the "Additional Information" section of this letter.



The basic formula: COA – EFC = Maximum Eligibility for Need-Based Aid


For more information about how colleges determine eligibility for financial aid, visit: studentaid.gov/complete-aid-process/how-calculated


Next Steps for Accepting and Securing Your Awards
Review Your Online To-Do List:

Before you are able to receive your awards, make sure there are no outstanding requirements on your To-Do List in Cardinal Station (cardinalstation.cua.edu). The To-Do List appears on the right side of your Student Center as soon as you log in.



Determine if You Have Estimated Aid:

If an item in your Financial Aid Offer Letter is listed as "Estimated", this means there are still requirements in your Cardinal Station To-Do List left to complete (see above). Your FAFSA may have been selected for federal verification and require additional documentation. Estimated awards may change due to recalculated need and/or fund availability.



Accept Your Aid

: You must accept or decline your financial aid each academic year. Please review the "terms and con

ditions" section below for more information. You have the option to choose the full amount or a lower amount. Once accepted, aid will not disburse until at least 10 days prior to the start of the term. Instructions are available on our Financial Aid FAQ Page


Complete Entrance Counseling & Master Promissory Note (MPN):

If accepting Federal Direct Subsidized and/or Unsubsidized Loans for the first time, you will need to complete Entrance Counseling at studentaid.gov/entrance-counseling/ as well as a Master Promissory Note (MPN) at studentaid.gov/mpn.

Federal Direct Loans will not disburse until both tasks are complete.

 If applying for the Parent PLUS Loan, a separate Master Promissory Note will be required

.





Review FERPA Rights

: The Family Educational Rights and Privacy Act (FERPA) protects a student's personal information. Students may complete an Education Record Release if they would like a third party (such as a parent) to have access to financial aid information. If the student does not complete this form, the information we are able to share with third parties is limited. Students may complete the form by contacting Enrollment Services at enrollment-services.catholic.edu/records/privacy.



Consider Health Insurance Waivers:

The University requires all students to have and maintain health insurance. The Office of Student Financial Assistance does not administer student insurance. For information about charges and waivers, visit catholic.edu/studentinsurance.



Report Outside Aid:

The total amount of assistance from all sources cannot exceed the University's COA and federal unmet need. In addition, almost all federal and certain institutional aid programs require unmet need. Outside aid or third-party payments must be coordinated with federal and institutional aid to ensure that these conditions are met. This means that we need to coordinate any outside aid (scholarships, tuition waivers, etc) you have received with the institutional and federal aid offered by the University. You can report outside aid by completing a Notice of Additional Resources Form from our forms page.



Continue to Check Your Email & Mail:

Important University information will continue to be shared with students in the months to come.
While we aim to be as generous as possible with our aid, we understand that some families may still have a gap between the aid offered, their EFC, and the University's COA. Here are some additional payment options:
Payment Plans:

Payment plans are offered in 3, 4, and 5-month options for the fall and spring semesters. Visit Enrollment Services at paymentplan.catholic.edu or by calling 202-319-5300 for more information.



Parent PLUS Loan:

The Federal Direct Parent PLUS loan is a non-need-based, fixed-interest loan made to parents of dependent undergraduate students. The University uses a proprietary application available on our website: financial-aid.catholic.edu/parentplus. Parent borrowers will also need to complete their own Master Promissory Note (MPN) before the loan can disburse: studentaid.gov/mpn/parentplus/landing



Private/Commercial Student Loans

: Commercial student loans can be used to supplement federal and university aid. The University does not recommend a specific lender. It is often best to start with banks or credit unions with whom you already have a relationship. Research the lender, interest rates, loan requirements, and repayment plans carefully when selecting your lender.



Outside Scholarships:

Continue to apply! Start with the scholarships offered by your high school and/or organizations with which your family has an affiliation. Scholarships should always be free to search for and apply for. There are many great national sites, including fastweb.com and scholarships.com. Learn more on our outside scholarships page.
Additional Information:
Federal Work-Study (FWS)

: This is a need-driven award and is based on your FAFSA information. To access your award, you would need to apply for and secure an approved work-study job. Job listings are available starting in August at catholic.edu/career-support/handshake and there is a Student Employment Fair during the first week of classes. Work-study students receive paychecks for hours worked; earnings do not apply directly to a student's bill. Even if you were not awarded FWS funds, you can use the Handshake link above to search for on-campus and local part-time jobs. Learn more at financial-aid.catholic.edu/workstudy.



Housing & Food

: You will receive information about housing and meal options in the mail and via email from the Office of Housing Services. Living off campus could impact your charges and potentially your financial aid award. There are different price options for the various rooms and meal plans: enrollment-services.catholic.edu/costs



Appeals:

We recognize that the FAFSA will not tell us everything we may need to know about your family's financial situation. If you and/or your family have experienced extenuating financial circumstances not captured in your FAFSA, we invite you to email us your Appeal Inquiry explaining your circumstances at cua-faforms@cua.edu. You may also review the criteria for pursuing an appeal – as well as a link to the appeal form – on our website at financial-aid.catholic.edu/appeals.





Please review the terms and conditions of your financial aid awards prior to accepting them.

For more details, visit the "Policies" section of our website.
All University-funded undergraduate scholarships and grants require full-time enrollment (minimum of 12 credit hours per semester) and are valid for up to 8 semesters (4 years) or until you complete your current degree, whichever comes first. Institutional aid does not generally apply to summer semesters.


To maintain eligibility for all financial aid awards, students must meet Satisfactory Academic Progress (SAP). For undergraduate students, this means maintaining at least a 2.0 cumulative GPA and a course completion rate of at least 67%.


Traditional undergraduate students are projected to be enrolled full-time (12+ credit hours per semester). Students in the University's Metropolitan School of Professional Studies are projected to be enrolled half-time (6 credit hours per semester).



Please contact us if you plan to take more credits or fewer credits than expected as this may impact your financial aid awards.


If the actual enrollment status differs from the assumption, aid eligibility is recalculated accordingly. Students may owe a balance.



All federal aid recipients who fail to complete the semester may have their aid adjusted. Please refer to our "Withdrawing" policy on the site listed above.


Students accepted into the John Paul the II Seminary will receive a 50% waiver of tuition only. Students may not combine this waiver with any other scholarship offered by the university.


As an NCAA Division III school, we are prohibited from offering athletically related aid.
For in-depth information regarding financial aid policies and resources, visit our website at financial-aid.catholic.edu.
If at any time you wish to speak with a Financial Aid Counselor or have questions, schedule an appointment or contact us at your convenience.
We look forward to welcoming you to campus soon!
-Office of Student Financial Assistance
The Catholic University of America
After carefully reviewing this information, please log in to Cardinal Station at https://cardinalstudents.cua.edu/ to review and accept or decline your awards.